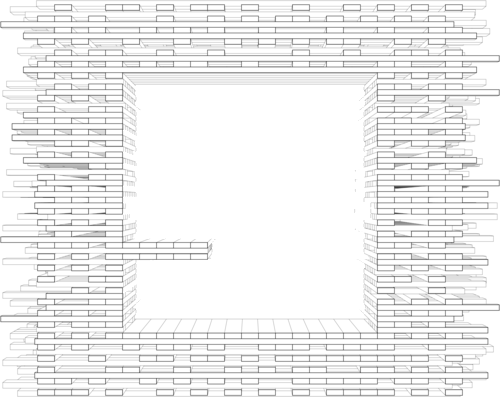 Even though we've crossed cities and been challenged by the different kinds of homes present in different cultures, we always come back to the naïve representation of a home: four walls, a pitched roof and a touch of ornament to distinguish one from another.
The fundamental difference seems to be style, individual expressionism and a few architectural moments. We link kindness with the relationship of child and mother, and we find commonalities of sheltering with that of the home. We search, through all our work, to understand and challenge the difference between a shelter and that of a common home. Beyond the representations of ornamentation and collections of possessions, what truly makes a home and if so, what makes a shelter?
Sanctuary and protection nurture fundamental acts of kindness.
And yet in the 4" x 2" Nest, we're not seeking a literal representation of nature.
Accidental indeed, that formal associations can be linked with those of a birds nest; soft on the inside and sharp and defensive on the outside. Nature's Nest is a constructed state, a structure of weaved and stacked materials that are otherwise discarded. The 4" x 2" Nest is contrary to the natural birds nest in that it is no longer constructed, but rather is a deconstructed moment. We deliberately blur the edge to allude to anything you'd like it to be, or something you want to see. We calibrate the three dimensions evenly, without really having an opinion.
The 4" x 2" Nest is a cube, a sample of something else. It is a 16 tonne pile of 4" x 2" Ordinary Builder's Hardwood, the same OBH that went into making many Australian houses. The life that was brought into these dwellings was circumstantial, the materials that made them, however, were essential.
How much of a house is here we'll never know as its memory has already been erased. And we conclude that prior to life being injected, a home is a shelter. And still we ask ourselves, is a shelter a home?